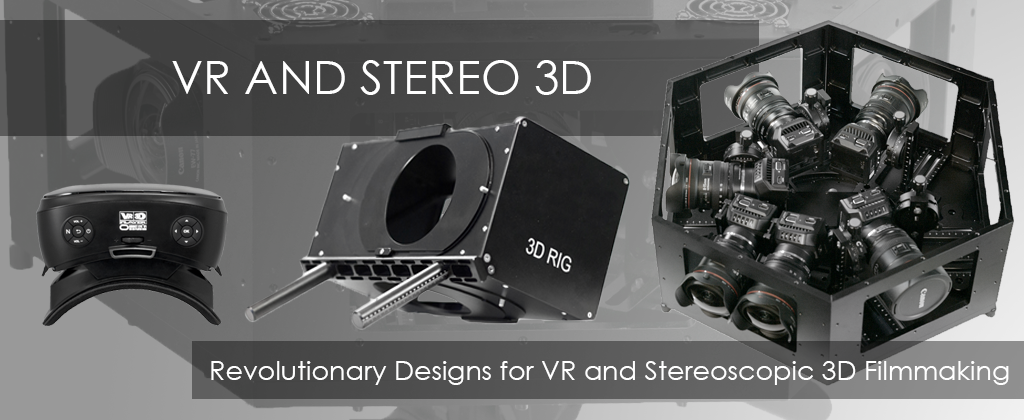 ---
Step in to the World of Virtual Reality Production.
Cinegears is a leading manufacturer and distributor of 3D & VR equipment, from 3D stereoscopic rig adapters, to fully customize-able VR Rigs,to head mount display technology. We are dedicated to providing a level of quality and functionality that exceeds the products of our competitors, with performance guaranteed by comprehensive customer support and warranties.
---
| | | | |
| --- | --- | --- | --- |
| VR Head Mount Display | VR Rigs | 3D Stereoscopic Rig | Rig Components |
---
Whether you need a full virtual reality video recording set-up, replacement parts, are interested in distributing our product, or simply have a general inquiry,
feel free to contact us at any time and our knowledgeable customer support staff will be more than happy assist you.
VR 360 Production Equipment
Quickview

VR and Stereo 3D

The Cinegears Lucid Pro VR 360 Head Mounted Display (HMD) offers the highest resolution on the market, displaying real 2560x1440 (pixel by pixel) and accepting true 4k (4096 x 2160) and UHD signals. This is the professional solution for viewing...

$

759.00
Stereoscopic 3D Production Equipment
Quickview

3D Rig, VR and Stereo 3D

Specs

Condition New
Case Dimensions 68*52*41
Case Weight 13kg
Kit Weight 12kg

---

In the Box

3D Rig Body
3D Monitor
Beam Splitter
Follow Focus Basic Kit
Storage Case

$

12,000.00

Quickview

3D Rig, VR and Stereo 3D

Specs

Condition New
Case Dimensions 68*52*41
Case Weight 13kg

---

In the Box

$

8,000.00